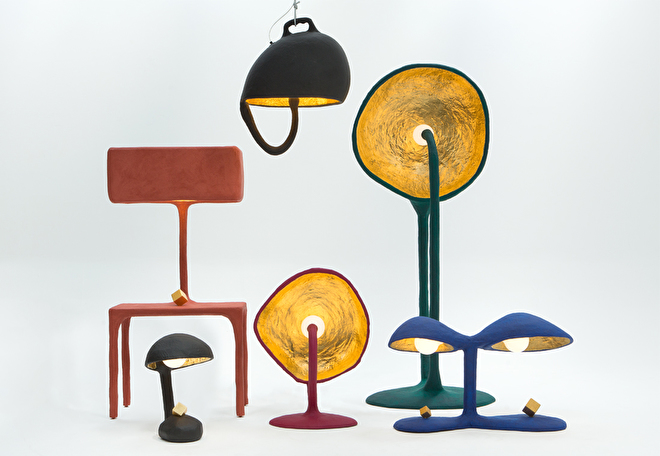 The work of Josha is created by bringing his two dimensional sketches directly into the third dimensional world. No matter how big or small the sketches are, Josha believes that a sketch is the most pure and intuitive regarding creativity. It comes closest to the intuitive creative creation that takes place inside your brain. To conserve the intuitive within the creation proces he directly copies the sketch, with all of its naive and "wonky" lines, into 3d sculptural objects. He developed this proces in a work-method calling it "Intuitive Creativity". This working method results in an eclectic collection of functional objects varying in size, form and color. The whole proces is as intuitive as possible, even the choosing of color.
All pieces are given function. Which makes them balance between art en design. The lamp shades are finished in 24k gold-leaf. Some of the objects are fitted with a 24k gold-filled cube that functions as a touch-dimmer switch.
The function and shape can vary, whereas Josha does not give himself any restriction as to what direction the collection will grow. Therefor it is an ever growing collection with only his imagination as limitation.
The collection exists of two series; the IC-Serie and the Box-Serie.
The IC-Serie is build from scratch by carving blocks of foam, like a sculpture of marble. Within he proces he stays as close to the sketch as possible without compromise.
The Box-Serie is build by the fast collection of empty cardboard boxes that Josha has collected over the past years from all the online purchases he did to maintain his studio. These sculptural pieces are given an extra layer by up-cycling the empty and discarded boxes. This is Josha his attempt to deal with the problem of excess waste material in the world of logistics. He has taken his aversion against the excessive use of space inside these boxes. In most cases the boxes are mostly filled with air when shipped. So in essence we are polluting the air around us by moving around the clean air inside the boxes. The Box-Serie exists of objects that are ready-made discarded volumes put together, and by doing so are given newly added value.