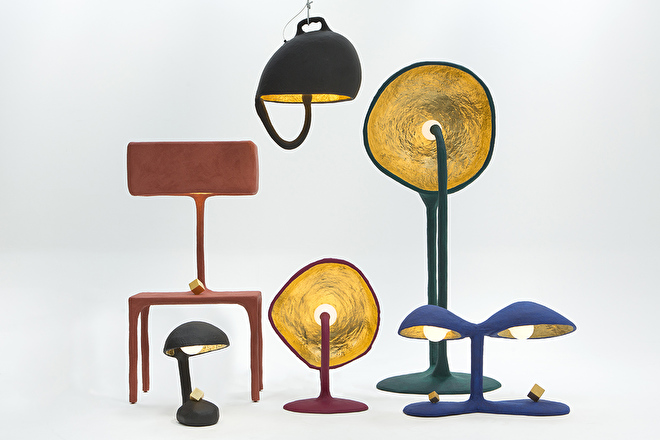 ---
When I started at art academy, I discovered that I have no drawing skills at all. No straight lines, no perspective, no technique what so ever. Looking at my classmates, this became a source of uncertainty until I came to the conclusion that the drawings have character and distinguish themselves because of the lack of skills. The objects that I (tried to) draw were therefore own. I have developed this further into my own design metho- dology; the Intuitive Creative Design Method. The core is that I fully rely on the artistic value of my drawings.
Every object starts with this method as a small manual sketch and when translated into the 3d product the sketchy aesthetic is preserved as much as possible.
The goal is to copy the sketch 1 on 1 in 3d. Without intervention of ratio, market research, technical drawings or computer modeled models. This keeps me as short as possible in line with my creativity or my intuition. The IC (Intuitive Creative) lamp series is the most recent result of this.
Each piece is carved by hand out of foam and is reinforced. The skin is build up with an environmentally friendly resin. The color is chosen intuitive while the piece is coming to shape. All the objects are nished with 24k gold leaf, which has a vibrant and deep color. The gold makes the lamp come alive also in broad daylight. When suited the object will get a golden cube that functions as a dimmer switch. This geometrical shape emphasizes the hand-drawn aesthetic.
The collection is a serie of 7 unique lamps, and evolves constantly. My sketch book is filled with ideas that include all kinds of objects. This method allows me to make everything that pops up in my head, building my own world.
---